A (501) (C) (3) charitable corporation designed to receive contributions, memorial gifts and property.  Educational projects related to the Trucking Industry and Scholarships to deserving students who are children of MTA member employees that are enrolled in scholastic endeavors is the primary objective.
SCHOLARSHIP PROGRAM
Over ten years ago, the Mississippi Trucking Association Foundation Scholarship Program was created.  Scholarships are offered through the Mississippi Trucking Association Foundation, the Mike McLarty Endowment, the John Fayard Endowment, the H. Dean Cotten Endowment, the G. Larry Kerr Endowment, the R. Gene Holmes Endowment, and the Vernon G. Sawyer Endowment.
For further information contact Shelby Clemmer at the MTA office at (601) 354-0616 or sclemmer@mstrucking.org
Scholarship applications will be available March 1st, 2018 for the year 2018-2019.
If you are interested in receiving an application please email sclemmer@mstrucking.org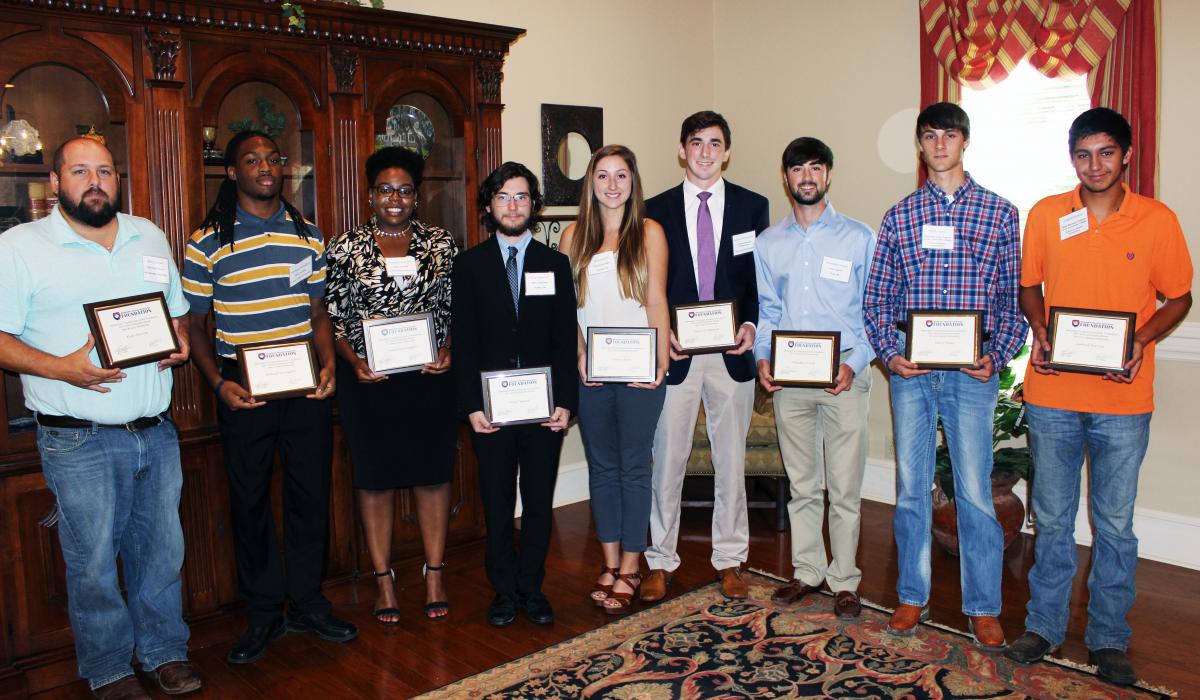 Recipients from the 2017 Scholarship Luncheon are pictured as followed (R to L):
Ricky Burrow, Michael Arrington, Jermeria Arrington, Philip Tapscott, Kenna Kuhn, Quinn Frommeyer, Chandler Powell, Marty Jones, Gabriel Barrios.
2017-2018 SCHOLARSHIP WINNERS
Ryeley Jacobs, Mississippi State University, Rocking C Truck Lines
Kenna Kuhn, Mississippi State University, Total Transportation
Julia McKinney, University of MS Medical Center, Total Transportation
Chandler Powell, Mississippi State University, Jones Logistics
Brooks Rahaim, University of Southern Mississippi, Jones Logistics
Peyton Richards, University of Mississippi, KLLM Transport Services
Philip Tapscott, University of Southern Mississippi, Miller Transporters
G. LARRY KERR ENDOWMENT
Emily Moran, University of Southern Mississippi, Total Transportation
Reid Cooley, University of Southern Mississippi, Whitestone Transportation
JOHN FAYARD ENDOWMENT
Quinn Frommeyer, University of Mississippi, John Fayard Moving & Warehousing
H. DEAN COTTEN ENDOWMENT
Jermeria Arrington, Jackson State University, Ergon Trucking
Michael Arrington, Jackson State University, Ergon Trucking
MIKE MCLARTY ENDOWMENT
Gabriella Thompson, University of Mississippi, Royal Trucking Company
Ricky Burrow, University of Southern Mississippi, Dunn Roadbuilders
R.GENE HOLMES ENDOWMENT
Marty Jones, CoLin Diesel Mechanic Program
VERNON G. SAWYER ENDOWMENT
Gabriel Barrios, CoLin Diesel Mechanic Program